Conveyor Manufacturers Australia co-founder and director Ben Smith tells Australian Mining how the company developed a design philosophy that challenges the status quo.
New market entrant Conveyor Manufacturers Australia (CMA) is disrupting the industry by transforming the way mine personnel operate in mine sites.
Currently, most components of a conveyor system require personnel to enter extremely risky areas to assemble and disassemble the system. Part of the day-to-day operation of underground mines and tunnels requires conveyors to continually be lengthened and shortened.
To do this work, the conveyor must stop, directly impacting productivity.
Conveyors are also built hand by hand, piece by piece, involving a significant amount of manual handling – lifting, carrying, twisting, bending and shoving. Over time, productivity increases mean these components have also become heavier, increasing the strain endured by personnel.
According to business development director Ben Smith, mining processes tend to revolve around equipment. Therefore, as that equipment has not fundamentally changed in a long time, potential productivity and safety benefits that can be attained from revised processes have not been realised – until now.
"I'm not a conveyor engineer – I'm a mining engineer. So, to me, it's all about process," Smith tells Australian Mining. "Why do we let our equipment dictate our processes and the way we work? Why not design our work to be more ideal, and then support that with equipment that meets the desired outcome?"
Workers' wellbeing was the driver behind CMA's Redline underground conveyor system, which led to it winning the Flexco Excellence in Mine Safety, OH&S Award at the 2018 Australian Mining Prospect Awards.
Smith recalls wanting to make a change, so that when workforce personnel retire, they stay healthy and could play with their grandchildren.
"It's not so much the catastrophic injuries, but the ones that you face day in, day out, over a 30-40 year career that impede you later in life," he says. "I remember watching people do the same hard work every day for years on end, and it took its toll – on knees, ankles, and shoulders, with resulting surgeries, rehab, and sometimes, forced retirement. It just wasn't good enough."
With this in mind, CMA embarked on delivering conveyor solutions that are aimed at improving users' health, safety and wellbeing, and at creating a step-change in productivity and industry performance.
"We started with the problem first and let that drive the solution. So often a new thing is designed and made in search of a problem to solve".
The Redline underground conveyor system all but completely eliminates manual handling of conveyor structure – namely lifting, carrying, twisting, bending and shoving – from conveyor construction, retraction and maintenance.
Redline is a modular conveyor system which is hung from an overhead monorail system and is propelled by a hydraulic traction unit. The conveyor extends and retracts from a dedicated installation and recovery centre away from the congested working or face area.Key advantages include the ability to install the final conveyor from the get-go, eliminating the current practice of developing roadways on narrow belting and later having to completely replace it with a high-duty conveyor; and, the ability to be pre-fitted with monitoring, lighting, communications and other associated cabling and safety systems.
Redline's purpose-built wardrobes also provide the ability for it to be transported to the next area without manually loading or unloading trailers and carriers.
From a productivity perspective, the underground conveyor can now be lengthened, shortened and maintained without having to stop. This directly impacts an operation's bottom line.
Now, there is almost no need to have down-time as part of the normal process cycle – an enormous improvement in availability and overall productivity.
Smith adds, "One day I asked the question, what is the biggest issue we have in our industry at its most fundamental level? What is the biggest thing we want to get more of? Time. Time really is the only thing we can't get more of. We can buy more equipment, we can hire more labour, but we can't get more time. Once it's gone, it's gone."
Redline impacts and delivers significant benefits to many areas, from longwall and pillar extraction in coal mines, underground roadway development, single entry driveage, to civil tunnelling.
ENDS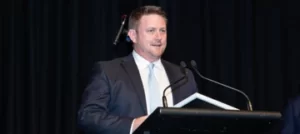 CMA Co-Founder and Director Ben Smith.
Photo by: Photographic Memory